Limited liability company "Laplan"
was founded in the year 2004 with the object of development of civil aeronautical engineering (AE). Development activity constitutes science-research, experimental-design and pilot work devoted to creating, modernizing of the AE items, including the means of land-based attendance of the aircrafts, short-run production, as well as follow-on of the produce in the process of manufacturing, operation and maintenance, up to the time of writing off.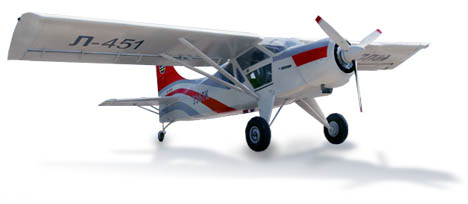 The set targets determined the organization structure consisting of several subdivisions that ensure the following:
- Engineering and development of design, technological, operation and normative documentation;
- Production of pilot samples of AE;
- Carrying out of flight and design, certification testing;
- Quality control, reliability and safety of the produced machinery.
The existing legislation stipulates for licensing of activity regarding the AE development and certificating of the companies as the developers of civil aeronautical engineering.
At present the preparation of materials to be delivered to the licensing institution in order to receive license, allowing development of aeronautical engineering, is nearly completed. LLC "Laplan" possesses all facilities necessary for a successful positioning on the market of aircraft building. Apt financing, availability of all required facilities allowed to engage in the work of the design office
highly-qualified specialists
from the aviation and other branches of industry, who are truly devoted to the development of aircraft-building industry. The company's staff (of more than 100 people) unites specialists possessing experience of working in the leading domestic aircraft design offices and plants (
Russian Aircraft-Building Corporation "MiG", Open JSC "Company "Suhoy", Aircraft Company named after S.V. Ilyushin
). These professionals share their knowledge and experience with young specialists who deal in modern design methods. Respect to traditions, succession of generations - these are the main principles that define the staff list of the design office of LLC "Laplan".
Engineering of new models of machinery is conducted in close cooperation with a group of leading institutes of aviation and ship-building (CAGI, VIAM, MAI, CKB of SPK, etc).
Production sector of LLC "Laplan" is provided with a modern, well-equipped technological base
. Being integrated into the Financial and Industrial Group "New Transport Technologies", the Company has in its disposal greater opportunities due to the efficient use of partner network of the holding company.
LLC "Laplan" is improving its organizational pattern. At present all types of work related to engineering, production and commercial activity are singled out into separate divisions. Our aim is creating and industrial production of new types of aircrafts which are in demand among Russian and foreign consumers and which are competitive with the similar machinery abroad.
LLC "Laplan" is working hard to become
: a highly-efficient, investment-attractive company, uniting professionals in the sphere of high technology, a sample of reliability and corporate standards of conducting business for the benefit of consumers and partners, an active participant of international partnership in the field of general-purpose aviation and "small" aircraft industry.